Sometimes the best gifts in life are free: such as an abundance of leaves covering your front lawn. All jokes aside, autumn's finest foliage can be quite the nuisance when it creates a blanket across your property — with the chance it could hinder new grass blade growth in the process. If you've already raked up the leaves and don't know what to do with them — might we suggest these green alternatives?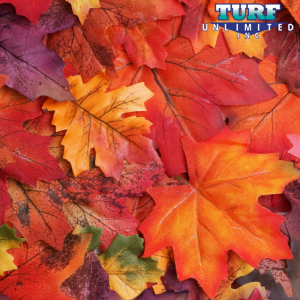 Eco Friendly Way 1: Make Mulch
Whether you already have an abundance of mulch on your property or not, leaves make the perfect eco friendly alternative. Unlike traditional mulch that you'd purchase at your local home improvement store, leaves create a barrier on the soil of your gardens to add the perfect level of warmth and nutrients. In addition to being bountiful in terms of nutritional benefits for plant life, using autumn leaves as mulch is also cost efficient — since they're falling on your lawn for free. Thanks, Mother Nature!
Eco Friendly Way 2: Create Compost
In addition to creating the most decadent mulch on your property, it's an added bonus to start a compost pile with the leaves you rake up. Known for enriching the soil, compost piles are an incredible way to give your plants and vegetables the nutrients they need. If you're looking for the best earth-friendly alternative to common gardening chemicals, then this is the best choice for you! In addition to being environmentally friendly, starting a compost pile will also save some funds because you'll be making your earth-bred fertilizer for free — but you still need to rake up the leaves and start a pile to get started.
Turf Unlimited is a full-service lawn care provider, offering a wide variety of lawn care, fertilization, and pest and weed control services to the Massachusetts or New Hampshire area. For more information about our services call 888-649-9919 and schedule your free, in-home estimate today.