Products
Turf Unlimited believes no one company manufactures the best parts necessary, we install top quality products from premier companies like Hunter®, Rain bird® and K-Rain®. We are constantly reviewing the latest products released to the industry and testing them at our facility before we introduce them into the field. By utilizing products from the leading manufacturers, Turf Unlimited can choose the best products to meet your landscape needs. With these products and our outstanding installation crews, Turf Unlimited is able to offer one of the best warranties…3 Years Parts and Labor.
Rotors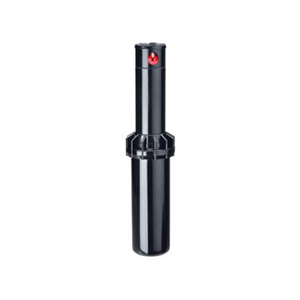 The RPS75™ gear drive is designed for basic residential and light commercial applications and is a direct replacement for Hunter® PGP® rotors.  The reversing mechanism, a K-Rain patented feature, is the same mechanism used in the Hunter® PGP® (K-Rain currently licenses this patent to Hunter®).  With K-Rain's wide selection of standard and low angle nozzles, the RPS75™ provides even water distribution.
Misters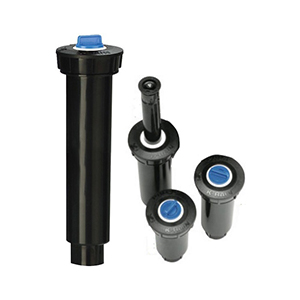 K-Rain PRO-S sprays are the result of precision engineering and extensive field testing by contractors around the world.  The PRO-S is designed to provide long life, outstanding performance and compatible with all standard female-threaded nozzles.
Mister Nozzles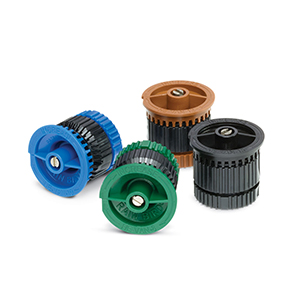 Rain Bird® VAN Nozzles can be adjusted to the exact pattern of your lawn, ensuring your landscape will be precisely watered, so you don't need to worry about it.  They are ideal for odd shaped corners and smaller grassy areas around sidewalks and driveways.  They can also be used for watering flowerbeds or shrubs. A complete line of VAN nozzles are available covering a range from 3-18 feet and compatible with all standard male-threaded bodies.
MP Rotor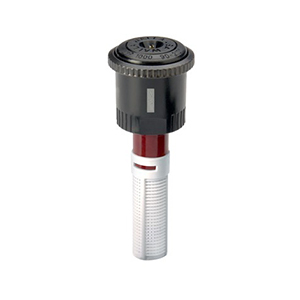 The revolutionary MP Rotator features a unique, multi-trajectory rotating stream delivery system that achieves water-conserving results.  Rather than simply "spray" water onto landscapes, MP Rotators deliver multiple streams of water at a steady rate.  This slower application rate allows water to gently soak into the soil and achieves an even distribution throughout the area being irrigated.  The MP Rotator can be installed onto any conventional spray head body.
Automatic Controllers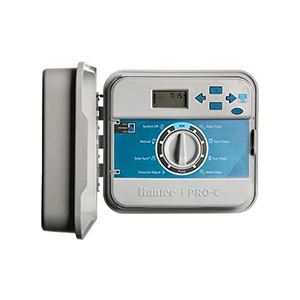 The Hunter Pro-C offers a host of enhanced features. Three programs with multiple start times, independent day scheduling, one touch manual start and rapid advance, and a programmable event day off. Additional Features include:
365 Day Calendar
Choose from day of the week, interval watering or true odd/even scheduling.
Rain sensor by pass switch.
Programmable delay between stations 0-4 hours for well recovery.
Programmable rain delay for 1-7 hours.
Remote compatible.
Expandable up to 15 zones.
Valves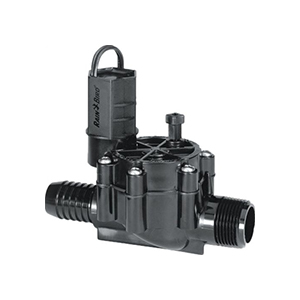 The Rain Bird DV100 offers outstanding performance in any type of soil or water condition. Unique balanced pressure design and contoured flow path provide efficient operation for a long life.
Rain Sensor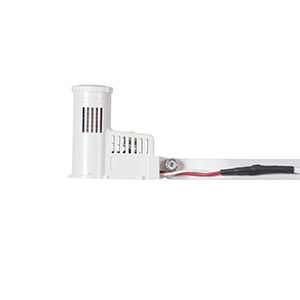 The Hunter Rain-Click™ rain sensor is the most reliable and accurate rain sensor in the world. Only the Rain-Click™, with its unique Quick Response™ feature, can command a controller to shut off immediately. Each unit is constructed of high impact thermoplastic and aluminum for years of trouble free operation, even under harsh conditions.
Backflow Preventor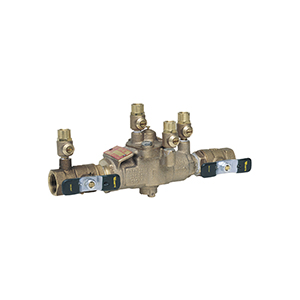 The Watts 800 and 009 series have superior protection in a compact design that fits any landscape.  The valve is designed to prevent back-siphoning of contaminated water into your water supply.  This unit is required by code in every town.
Sediment Filter
All systems that have water supplied from their wells will have a sediment filter added to the system. This filter has a clear cover which allows a quick view of collected sediment. The primary method of cleaning the filter is purging solids through the flush valve while the filter is under pressure. The other method is to remove and clean the reusable screen which eliminates expensive element replacement.
Drip Irrigation
Drip irrigation is the most efficient way to water any non-turf area, including flower beds, ground cover, vegetable gardens and hanging baskets, since the exact amount of water is distributed at or near plant root zone.
Pipe
Charter Plastics is the leading manufacturer of High Density Polyethylene pipe.  Their product is made from polyethylene resins that meet the performance demands of irrigation systems.  Charter pipe is resistant to cracking due to ground movement and temperature variations with a 25+ year warranty.
Clamps
All connections are double clamped with Murry stainless steel clamps. The reinforcing dimple in the clamp ear builds a spring action into the clamp to stay tight under pressure. The clamp will maintain tension against vibration, surges, and variations in the pipe caused by thermal changes.
Content Copyright © 2017, Turf Unlimited Inc.